Tuck into the tantalising taste of summer with cool cactus pears
Posted on: 19 November 2013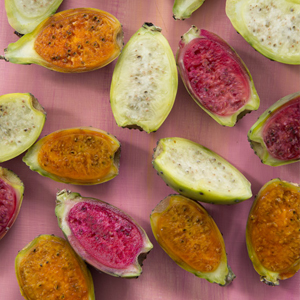 Palm tree green, beach sand white, sizzling hot pink and sunset orange…these are the shades of summer. They're also the vibrant colours of one of the season's most delectable sweet treats: crisp, cool cactus pears, which are in season right now.
There are a variety of fruits to choose from to suit every taste, including Morado, the local favourite with its delicate white flesh and subtle, fresh taste; Gymno with its deep sunshine yellow/orange flesh and wild sweet flavour; the ruby red/pink Algerian, with its crimson flesh and floral, exotic notes and the Skinners Court, a large, green fruit which can turn red towards the end of the season but retains its light green sweet flesh.
This riot of gorgeous colours means cactus pears make for a wonderful show on summertime plates, especially in al fresco settings. Think salads, salsas, sauces and syrups with a honey sweet kick and you get an idea of the versatility of these compact little gems with the tantalising taste.
Although best served chilled, cool cactus pears are equally at home in savoury dishes as they are in sweet desserts. Some popular combinations include Persian jewelled cactus pear and couscous salad; piquant cactus pear BBQ marinade and sauce for braaied or roast meats; cactus pear and mint salsa (divine with lamb!); and cactus pear syrup sorbet. Their red, white and green colourings make them a must-have for well-dressed festive tables, both as on-trend natural décor pieces and as dishes in their own right.
Cactus pears also shine in an endless range of refreshing and über cool coloured cocktails, from martinis to margaritas – perfect for the pool side, laid back braais and chic garden parties.
Of course they can also be simply enjoyed as they are, peeled and eaten whole or sliced. Contrary to what many people think, peeling a cactus pear – also known as a prickly pear – is not a thorny issue. These ready-to-eat, convenient fruits come with most of their spines removed; all you need to do is remove the skin with a paring knife and a fork and you're ready to tuck into a taste of summer, it couldn't be easier!
For years some cultures have claimed the cactus pear offers medicinal benefits. In traditional Mexican folk medicine, for example, it was used to treat diabetes. Other cultures have used the fruits to treat burns, stomach ailments, cuts and bruises, sunburn and windburn, constipation and cold symptoms, and to reduce inflammation and cholesterol levels.
While it remains to be seen if these traditional health claims can be substantiated, the cactus pear has certainly caught the attention of the wider scientific community. Of particular interest are the red varieties and the potential benefit the phytochemicals they contain, called betalains, may have on the body.
vBut what we do now know is that cactus pears are naturally free from fat; are a source of fibre, biotin, the antioxidant vitamin C and manganese; and are a great addition to any diet.
Homegrown on South African soil, cactus pears are available throughout summer and the start of autumn, with a season that spans from November to the end of May. They're readily available during this time and easy to find at fruit markets across the country.