Add a bit of local colour to your Christmas dessert, with cactus pears
Posted on: 2012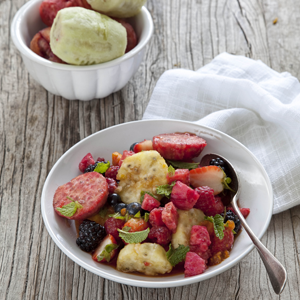 End off your Christmas lunch with a local spin on the boring old desserts with locally grown cactus pears. Sweet, refreshing and colourful cactus pears (Turksvy) are available right now and make an ideal dessert.
A member of the cactus family, the sweet-tasting local varieties offer a colourful range of refreshing white/light mint-greens, warm yellowy-oranges and bright crimson-reds – the colours of Christmas! Imagine chilled, sliced cactus pears in a glass bowl in all their glorious colours with lashings of custard…
Don't let it end there; continue your festive season with a cactus pear added here and there. Think slow-roasted pork belly glazed with cactus pear and ginger, or cactus pear syrup – translucent as vodka with none of the 'bite'. The syrup is also heavenly when dribbled onto oven-fresh buttered bread or used to braise mutton chops on the braai. How about tangy farm-fresh cactus pear chutney, a great accompaniment to egg-encrusted bobotie? You even get venison recipes calling for cactus pear and mint salsa. Fancy! Or simply peel, refrigerate – and enjoy individually.
If the thought of finicky peeling or dealing with knobbly bits is off-putting, fret not because most of the spines are removed when packaged.
With its multitude of uses – comfort or culinary – we charge our glasses, swirling with a local elixir of cactus pear, cucumber, ginger and mint; and drink a toast to 2013 and the iconic South African staple - the clever cactus pear.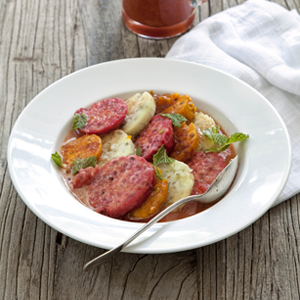 Sauce Ingredients
2 Cactus Pears peeled and chopped
¼ cup castor sugar
1 teaspoon lemon juice
Salad Ingredients
2 yellow Cactus Pears peeled and sliced.
2 pink Cactus Pears peeled and sliced.
2 green Cactus Pears peeled and sliced.
4 sprigs mint leaves, washed.
Three Colour Cactus Pear Salad
Prep Time: ... minutes
Cooking Time: ... minutes
Serves: 4
Preparation
Blend the sauce ingredients together in a food processor or blender.
Strain, save the liquid and discard pips and pulp.
Arrange sliced fruit on a platter.
Pour Cactus Pear sauce over sliced fruit.
Garnish with mint leaves and serve with custard (optional).
Add berries for variation