Cactus Pear perfection – cool cactus pears still in season and ready to eat!
Posted on: 10 March 2014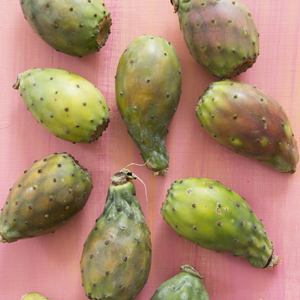 Even though temperatures are dropping, you can still get your hands on one of summer's hottest tastes – crisp, colourful and cool cactus pears. Whilst the main season for these vibrant jewels is coming to an end, the sweetly succulent Skinners Court variety is still widely available right through until the end of May.
You may have to wait until November to get your hands on a delicate white-fleshed Morado, a sunshine-orange Gymno or a ruby pink Algerian cactus pear again, but you will still find large quantities of the green or red-skinned Skinners Courts adorning a market shelf near you.
As with all the different varieties of cactus pear, the sweet succulence of the Skinners Court is a tasty addition in an endless array of delicious desserts, tempting toppings, savoury sensations, sublime smoothies or sexy cocktails. Simply Google 'cactus pear recipes' and you'll have a world of fabulous flavour at your fingertips.
Summer may be over and we'll soon be swapping our shorts for scarves, but it's always the right season to eat cactus pears. Look out for the large green or red skins of the Skinners' Court variety during the next few months and 'pear' them with some of your other favourite ingredients for an unforgettable flavour fiesta.